The coronavirus pandemic has affected most of the award shows, and the Emmys awards are no exception. But finally, the award season happened in Los Angeles last Sunday. It was the 72nd Annual Emmy award show, and it was conducted virtually in order to stop the spread of COVID-19. The A-List stars were still dressed up and showed their gratitude to corona warriors such as doctors, teachers, and delivery guys as they are risking their lives in this pandemic to help others.
Below are the best looks from the virtual award show.
Black Elegance: Jennifer Aniston
Jennifer Aniston walked on the stage along with her friend Jimmy Kimmel. She didn't disappoint fans with Black Silk Gown.
Source: Page Six
On Instagram, Jennifer posted a closer shot to the Black Gown. She also unleashed that her Hairstylist " Chris McMillan" is behind her new "Tousled Hairstyle."
Golden Elegance: Tracee Ellis
Trance Ellis walked on the stage in a Golden Gown, and according to us, she was looking absolutely stunning. This A-List star also arranged her personal red carpet at home.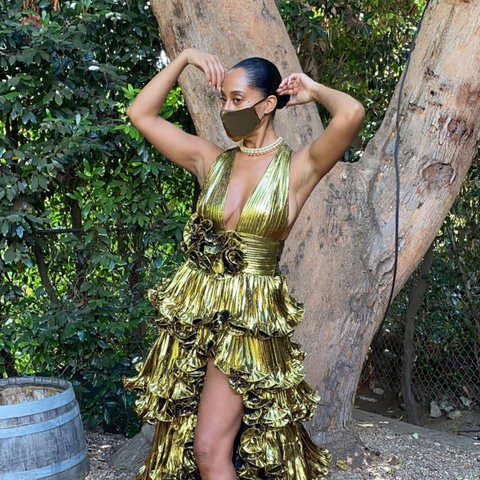 Source: Harper's Bazaar
Her jewelry was from "Tiffany," heels from "Jimmy Choo," and the dress was designed by "Alexander Vaulthier."
Multi-faceted elegance: Kerry Washington
The team of The Buzz paper was absolutely in love with the new floral look of Kerry Washington. Her dress was designed by " Oscar De La Renta" and styled by "Law Roach."
https://www.instagram.com/p/CFYVTzkHREV/?utm_source=ig_web_copy_link
Her £305 Doina Gemstone Earring Set was also a point of attraction for the fans.
Solemnly Elegance: Annie Murphy
Annie walked on the stage in Valentino's tux along with a sheer top. Fans were surprised to see her in this new look as they have a habit of seeing her playing the "Schitt's Creek" character.
Source: Entertainment Weekly